#TeamKICKASS is a group of amateur athletes and fitness enthusiasts that aim to promote fitness and support causes that have meaning to our members. We are cyclists, runners, triathletes, and anyone else that enjoys being active. What your activity is isn't important, it's all about doing what you love, having fun, and doing something good for your community. 
The team started as a way to honor the memory of Tom Sanitate. Tom fought pancreatic cancer for over three years and was always positive and lived life to the fullest. As the team has grown, each member brings their own inspiration for what they do. We aim to bring that same spirit Tom fought with to inspire others to be active, enjoy life, and give back to their communities.
Vee Kingsley – Team Director
Vee is the energizer bunny of #TeamKICKASS. Her energy and positivity is contagious, and helps fuel our endeavors. She also happens to be a fitness instructor and runner too.
When Vee began running, she went all in. In a 4 year period, she ran 56 half marathons, 6 marathons, and two 50k trail races (in a three weekend period!), not to mention multiple 5k and 10k's and completed some sprint triathlons. With all of that running, it's easy to see how she got Scott running too.
While she still enjoys running, fitness instruction has become her main focus. At one time or another, Vee has been certified for over 20 formats, including Les Mills, Zumba, Beachbody, and others. She is also a certified personal trainer. As she began to work yoga into her own fitness program, she fell in love with the grounding that it brings. In 2018, she completed a 200 hour yoga teacher certification through Create Karma to round out her teaching arsenal. 
Vee is currently teaching at I Am Limitless, and Hempfield Area Rec Center. Check their schedules to find out when you can take some of her classes.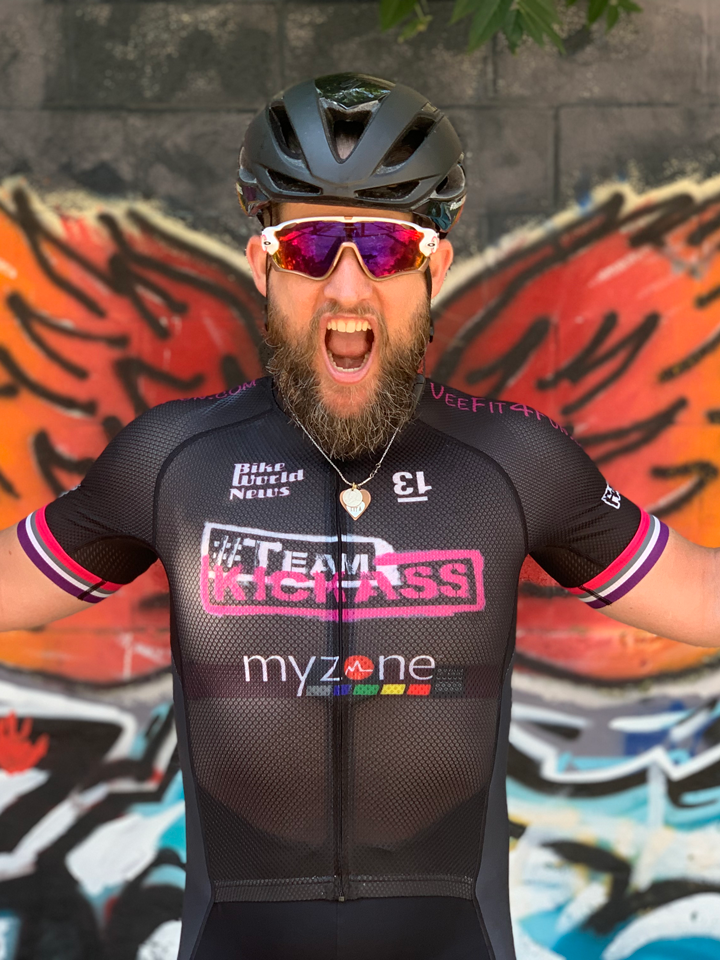 Scott Kingsley – Team Captian
When it comes to cycling, Scott is your man. A bike has been a part of his life for longer than he can remember, starting as a way to get around as a kid, then as a way to stay in shape and compete as an adult. Gravel events have become his focus, completing the Lu Lack Wyco Hundo (105 miles), Monkey Knife Fight (70 miles), and unPAved Susquehanna (125 miles) in 2021. You'll still see him on the road training, or racing on Zwift. He is also the tech editor and a photographer for BikeWorldNews.com.
Through Vee, he started running. It all started when he began following her at her races by bike with a camera to catch her in action. Scott decided he wanted to give running a try again, having not seriously ran since cross country in college. With only a 4-mile run in March and a 3-mile run in May, he completed his first half marathon in 2016. He has since run three other halfs, a 30k, and multiple 5K and 10K events. Vee always jokes he is a better runner than cyclist, with a few age group podiums by foot, and none on the bike. 
If he is not at one of Vee's cycling or yoga classes, teaching his own Les Mills The Trip and Sprint classes at I Am Limitless, or out on a ride, you can find him at a local makers market selling his organic Lancaster Beard Company beard balms and soaps.
Ben Reeder – Photographer, Web Guy, Event Manager
Ben found the team through meeting Scott and Vee at I Am Limitless. He was curious about getting into gravel, so he and Scott hit it off. Ben is also a photographer and was a huge part in getting our site built. 
Ben's riding goes back to his mountain bike roots. He'll be the one bombing down the sketchy gravel tracks while the roadies are walking and CX riders are picking their lines slowly. He has set his sights on pushing his endurance with goals of rides like the 120-mile unPAved Susquehanna.
 Ben and his wife Allison welcomed their first child, Ava, and has since been working to balance the dad life. You'll see him back out on the road at events soon.
Bios to come soon for the rest of the team:
Jason Bluestein – Cyclist
Adam Bricker – Runner
Brad Gorter – Cyclist
Corley Heiserman – Track Cyclist
Cody Kalinowski – Triathlete
Chris Laudo – Cyclist/Runner
Noreen Mareski – Fitness
Will Pack – Cyclist
David Piccola – Track Cyclist/The Hulk
Eric Price – Brazilian Jiu-Jitsu/Sports Medicine
Want to join the team or maybe there is a cool event coming up supporting a great cause? Drop us a line, and we'll get back to you.